Regular price
Sale price
$15.00 AUD
Unit price
per
Sale
Sold out
Environmentally friendly - swap over your empty squealer or growler for a full one on your next delivery.

All you have to do is, leave your empty bottle in a location visible to our delivery driver. No need to be there, just leave a note at checkout to assist us in picking up your old bottle.
Save money and the planet at the same time!
Keep Refrigerated & Consume Cold

Our Cold Brew needs to be refrigerated at all times and consumed cold. Cold Brew Growlers and Squealers to be consumed within 2 weeks of receiving.
Nitrogen Infused

That's right, our Cold Brew is infused with nitrogen giving it a smooth non-bitter taste every time. We are basically scientists!
Only Available in Perth

Our Cold Brew is only available to Perth Metro customers. We currently do not offer shipping of our cold brew outside of our local delivery. To find out if you're within our local delivery area, proceed to checkout for confirmation.
Roasted and Brewed in Perth

Yellowline Coffee Roasters are local! Your coffee is brewed right here in Perth and delivered by our very own delivery van.
Refill Bottle Exchange

We offer a discounted refill bottle exchange on Cold Brew Growlers and Squealers. Firstly, customers need to purchase a full priced growler. From then on, you can purchase or even subscribe to our discounted REFILLS.
The morning of your delivery (you will receive a text) leave it out somewhere we can see it. We will collect the empty and replace it with a refill. It feels good saving money and the planet!
4 way to drink cold brew

Our Cold Brew is ready to drink immediately but there are 4 ways you can enjoy enjoy it.

1. Over ice, drink it black
2. Add a dash of milk
3. Use ice-cream and cream on top
4. Shake into your espresso martini recipe!

See our video below for instructions.
View full details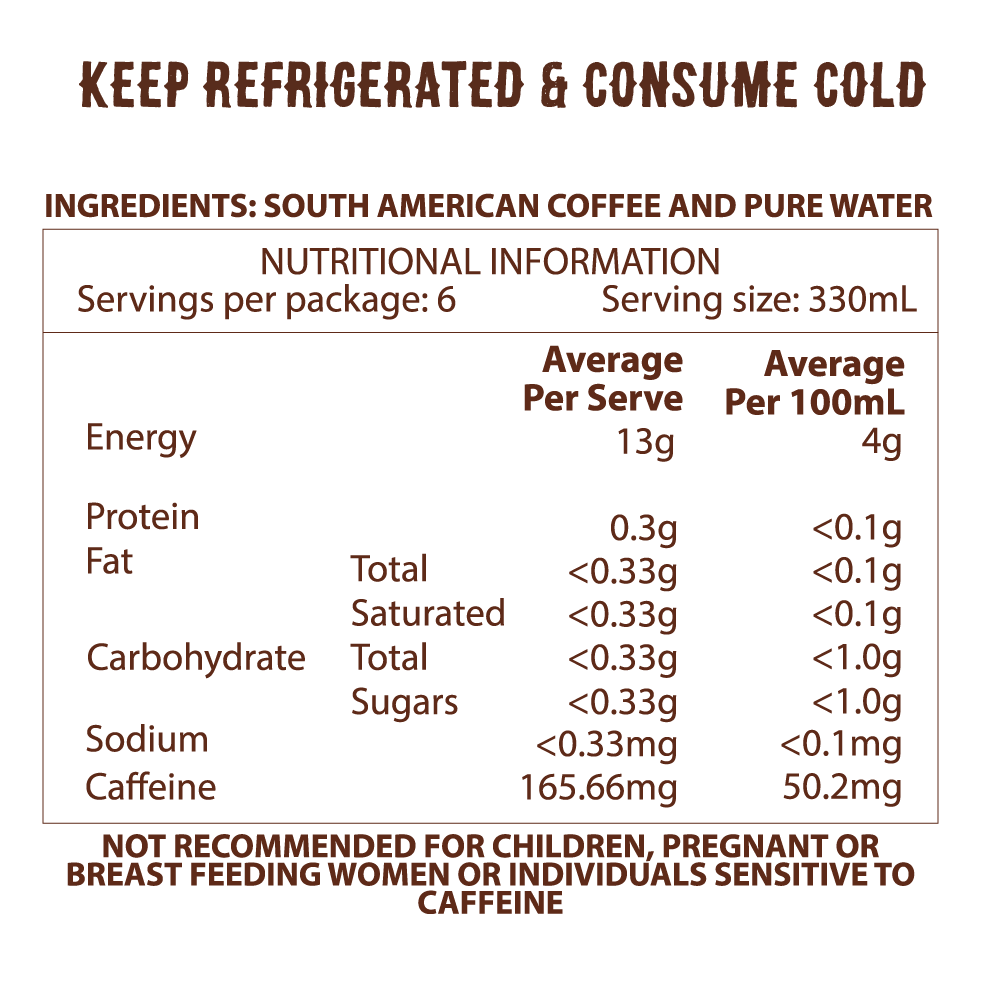 Free Shipping

We deliver your coffee direct to your door! With FREE shipping to Perth Metro and Australia Post delivery available to the rest of Australia. Dispatched and Delivered every Monday, Wednesday, Friday, order before 5 PM AWST and your delivery will be on its way to your door on the next delivery day.

Brewed to Order

Unlike a lot of roasters, we don't keep large stock piles. Our cold brew is roasted in small batches 2-3 times per week based on order predictions. So when you get your coffee it is freshly roasted a maximum of 4 day prior.
Quality control problem?
I genuinely love the refill service i think it is a great idea and i have ordered many cold brew refills last summer. I don't like writing a poor review but this was the first order for this year and it had some kind of burnt after taste to it. it was not enjoyable, i hope this was simply an off batch but if the next one is similar then i will not be coming back
Love the cold brew
Have been regularly buying the cold brew for a while now and absolutely love it. There was an issue (I think?) with delivery and unfortunately I wasn't able to contact Yellowline at all… the coffee was delivered the following week but it wasn't ideal as I'd organised to have one of us home on 3 seperate days. We will continue to buy the cold brew but hopefully the communication can be a little better 😊
Great coffee
Great value coffee love the convenience of a refill bottle
Cold Brew Subscription
The quickest easiest way to make delicious cold brew is to have someone else do it for you! No mess to clean up, no wastage, no stress and all for the low cost of $8 a liter... can't even really buy decent beans for that price...
Best Cold Brew in Perth
Great tasting coffee. Yellowline Cold Brew is always smooth tasting and never sour/acidic like other brands can be. Plus they deliver, so what's not to love?! 😋